Health & Fitness
There are four things I believe you need to live a healthy life:
1) Eat Healthy
2) Bridge the Gap
3) Exercise
4) Be at Peace
I explain all four of these below.  These are all things I personally believe in and hopefully you will, too!  I've seen, read about, and tried a lot of different things… and as of 2015, these are the best things I have found to be a generally healthier, happier person.
1) Eat Healthy – Dr. Fuhrman
It is so important to eat healthy. Everyone knows you're supposed to eat more fruits and vegetables and less alcohol,  caffeine, cookies, cake, and bread. But does it really matter?
I have been doing a lot of research on this over the years and the best book on eating healthy and why, is Eat to Live by Dr. Joel Fuhrman, M.D.  This book explains why it is so important more vegetables, less dairy, and less animal protein. It includes lifetime-long studies that prove how important it really is. Of course you can still eat all of these things, once in a while, but Dr. Fuhrman puts a huge stress on eating more vegetables. For more information check out the Dr. Fuhrman website. Most importantly, I think it is really helpful to follow Dr. Fuhrman's "Nutritarian Pyramid" (see below) as closely as possible.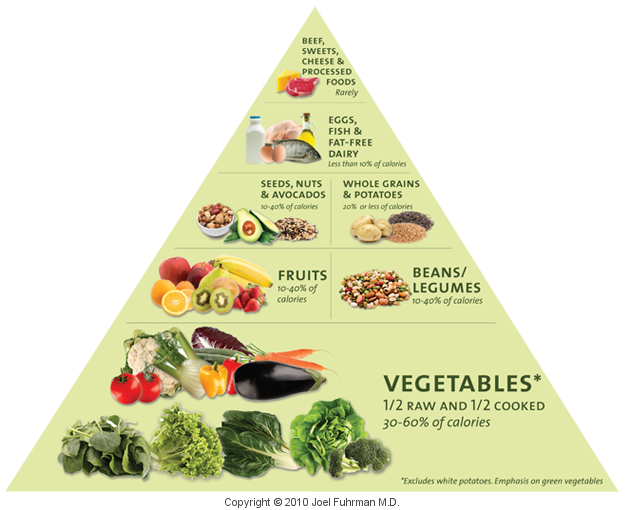 That's a lot of vegetables.  This is what brings me to my #2 thing I think you need to be healthy…
2) Bridge the Gap – Juice Plus+
Dr. Fuhrman says getting enough fruits and vegetables can help to prevent cancer, osteoporosis, heart disease, and a ton of other diseases. Sometimes it's hard to eat all those healthy things with our busy schedules. That is why I am so happy that I found out about Juice Plus+ to "bridge the gap" between the healthy food I DO eat and the healthy food I SHOULD eat. It is the best whole food based nutrition in a capsule that I have found in the world. It's even non-GMO. The thing I like most about Juice Plus+ is that there are over 32 peer-reviewed clinical research studies proving that it can improve or even prevent various medical conditions.  To find out how it works as your "insurance policy" on your life, check out this video – Bridging thet Gap.  If you want more information check out my Juice Plus+ website or contact me at mak22jp@gmail.com.
There are 2 Juice Plus+ products I use, and I recommend the same for everyone:
1) Juice Plus+ Trio capsules
2) Juice Plus+ Complete shake (This is my favorite protein shake over ALL other protein shakes in the WORLD!)
There is even a Juice Plus+ Children's Health Study that proves how it can improve the health of children.  In fact, if an adult takes Juice Plus+, they can get a child a FREE "gummy" version of Juice Plus+ for up to FOUR YEARS.  Yes, four (4) years.  At the end of each year, you just need to complete a detailed survey of your child's experiences with the product.
3) Exercise – Beachbody Workout Programs
I believe everyone should work out and be in the best shape they can be.  My favorite Beachbody workouts are the 21 Day Fix  and PiYo programs.  But there are TONS more that you can access via Beachbody On Demand (see below). Next I might try T25!
21 Day Fix:
You don't need much to do 21 Day Fix – just 2 light weights (I use 5 lb weights) and 2 heavy weights (I use 10 lb weights), a towel, water, a yoga mat, and some determination! For 30 minutes each day for 21 days, you'll do yoga, cardio, arms, legs, and abs.  There is also a portion-controlled food plan that is really easy to follow.  I did this 21 day program a while back, so nowadays I just do one of the workouts one day, then try to do them a few days in a row, then I supplement other days with a day at the gym with the elliptical and weights, a bike ride, or a walk or run.
There are 7 workouts on 2 DVDs:
Total Body Cardio Fix. Keep your heart rate up and your metabolism revved high long after the workout is over.
Upper Fix. Targeted resistance training helps shape your chest, back, shoulders, arms, and abs.
Lower Fix. Firm and tone your entire lower body while you blast fat and burn calories.
Pilates Fix. Strengthen your core, elongate your muscles, and firm your hips and thighs.
Cardio Fix. Get your heart pumping and your body moving as you melt away the pounds. (This one is the hardest one I think. You really sweat in this one and you need a lot of water!)
Yoga Fix. Improve your balance, flexibility, and strength as you help relax your muscles.
BONUS: Dirty 30 workout. 4 rounds of fat-burning exercises help carve out a leaner, stronger physique.
PiYo:
All you need to do PiYo is a yoga mat, towel, water, and yourself. PiYo sculpts your muscles firms your core like Pilates, and builds strength and flexibility like yoga – all in a low impact, fat burning workout.
There are 8 different workouts:
Align: The Fundamentals (40 min.)
Define: Lower Body (25 min.)
Define: Upper Body (20 min.)
Sweat (35 min.)
Core (30 min.)
Strength Intervals (25 min.)
Drench (45 min.)
Sculpt (30 min.)
Beachbody On Demand:
An exciting program that's going on right now is a 30 day free trial of Beachbody On Demand! Summer is HERE! I know how hard it can be to start working out.  You don't know which program will work best. You don't know if it will be too hard, too easy, or too boring! So, to eliminate these worries, you will have access to over 20 top fitness programs and meal plans to choose from, streaming to any internet device FREE for 30 days. That means you can get fit ANYWHERE ANYTIME using just your smart phone, iPad or laptop! Sign up free now HERE. After the 30 day trial period, the cost is just $2.99/week which will be charged quarterly.
 4) Be at Peace – Meditation & Journaling
Meditation:
No one is more stressed out than me, so… what do I do to help me be more calm?  Whenever I can, I tryto meditate or at least sit quietly for a few minutes.  Ok, I know you are thinking that meditation is a bunch of people in a room chanting OHM, bowing to each other, and saying NAMASTE. Well, there is a lot more to it than that. I go to a Meditation class at TriBalance Yoga with a great teacher, Dr. K (Sudesh Kannan, PhD). He has made meditation fun, meaningful, and doable. Being at peace is all about accepting yourself and others for who you/they are.  Self compassion is something people don't always think about, and having it can really make all the difference in your life.  We can be our own worst critic, and it doesn't have to be that way.  Check out Dr. K's Meditation-Magic site – especially The Balloon Meditation, which helps you let go of worries and live in the present moment.
Journaling:
Journaling can help you get your thoughts and feeling on paper. Writing your thoughts down rather than just thinking them, can help you see things at a different angle – it impacts your brain in a different way.  Writing out your thoughts just 15 minutes a day, or every other day, or maybe just when you feel stressed, can help more than you could ever imagine. TRY IT! You don't need a fancy journal or anything.  Just go to Target, Sears, or Kmart and get a cheap spiral notebook with a fun design on the front 🙂 If you're afraid someone will read it, just rip it up when you're done writing it!